El Moon Man
Wherein my Brass Moonman T1 (Fine) is paired with Noodler's El Lawrence.
On my Brass Moonman T1 (Fine) joined its comrades when it was filled with Noodler's El Lawrence. The pen was in use for one year and was emptied and cleaned on , saying good-bye to its fellows.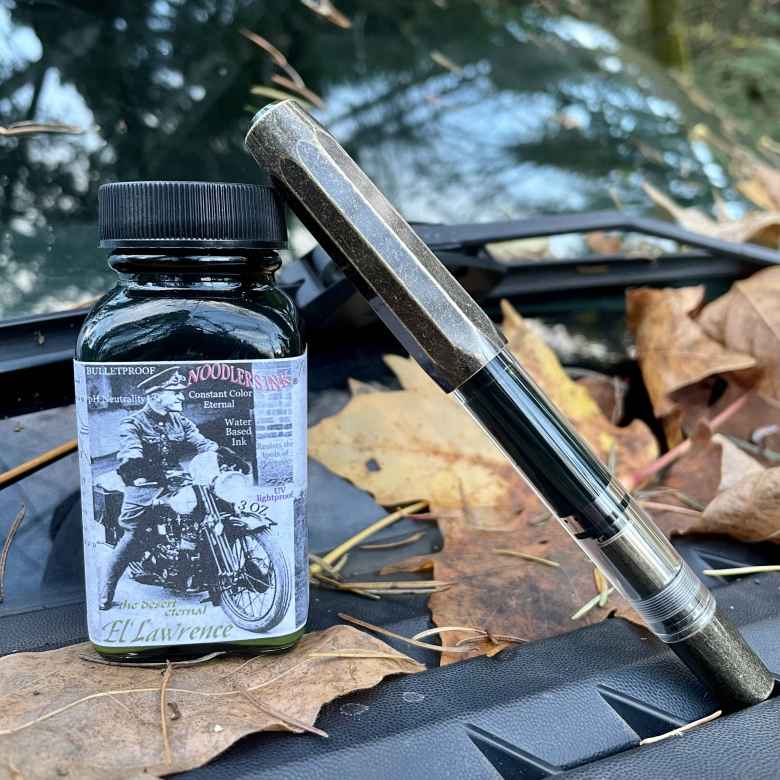 Thoughts Before Filling
I've had this pen too long to not use it. I've been wanting to grind the nib to an italic profile, but I haven't been able to tackle that project since I got the pen. I've also really wanted to use this ink again (I had a sample some years back). It's an interesting motor oil color, and for some reason this seems to fit the time of year, at least in my mind.
Thoughts After Cleaning the Pen
I still like this ink, and I like the heft of the pen. The weight is mostly in the cap, which I do not post when writing, so it's comfortable to write with and also has a solid presence on the desk or in the hand. The nib was a little dry and will need some tuning if I don't grind it into an italic.