Bad Blue Vac 700
Wherein my Clear TWSBI Vac 700 (IB) is paired with Noodler's Bad Blue Heron.
On my Clear TWSBI Vac 700 (IB) joined its comrades when it was filled with Noodler's Bad Blue Heron. I refilled it once; the last refill was on . The pen was in use for 7 months and was emptied and cleaned on , saying good-bye to its fellows.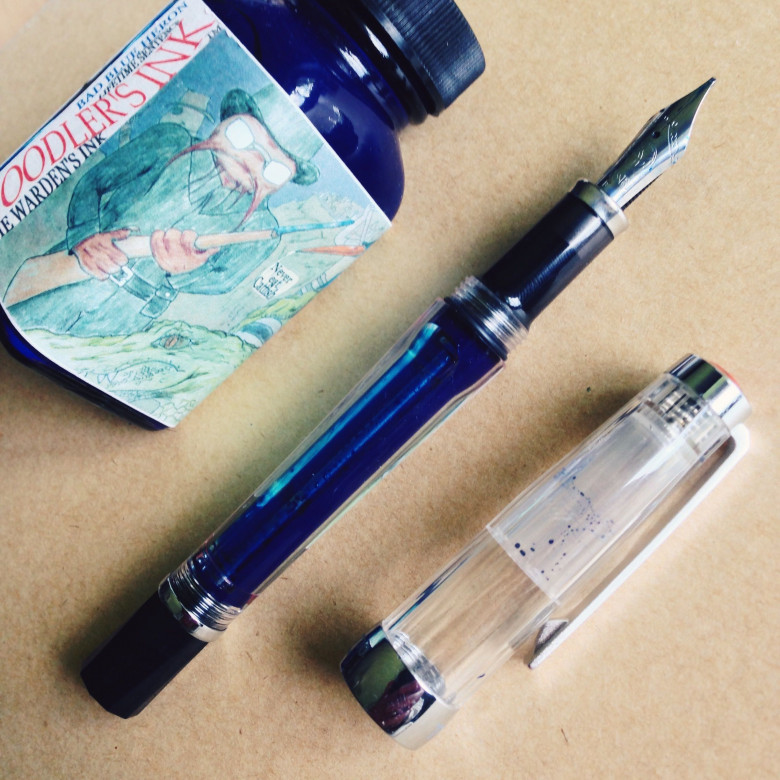 Thoughts Before Filling
I'm going to be on a plane in a few days, so taking my Vac 700 seemed like a good idea, plus I've been itching to give my custom grind some use. I've also wanted to use Bad Blue Heron because it's been quite some time since I last had it in a pen. As a precaution I used an already stained barrel for my Vac 700 (I have a spare) just in case this ink stains (the bottle appears stained!).
Thoughts After Cleaning the Pen
I really enjoyed using this ink in such a broad italic nib. The shading was tremendous and quite enjoyable. There appears to have been minimal staining to the pen which was a surprise to me (though I will need to use a bit of elbow grease and some pen flush). I expect this combination will occur again.
Related Articles